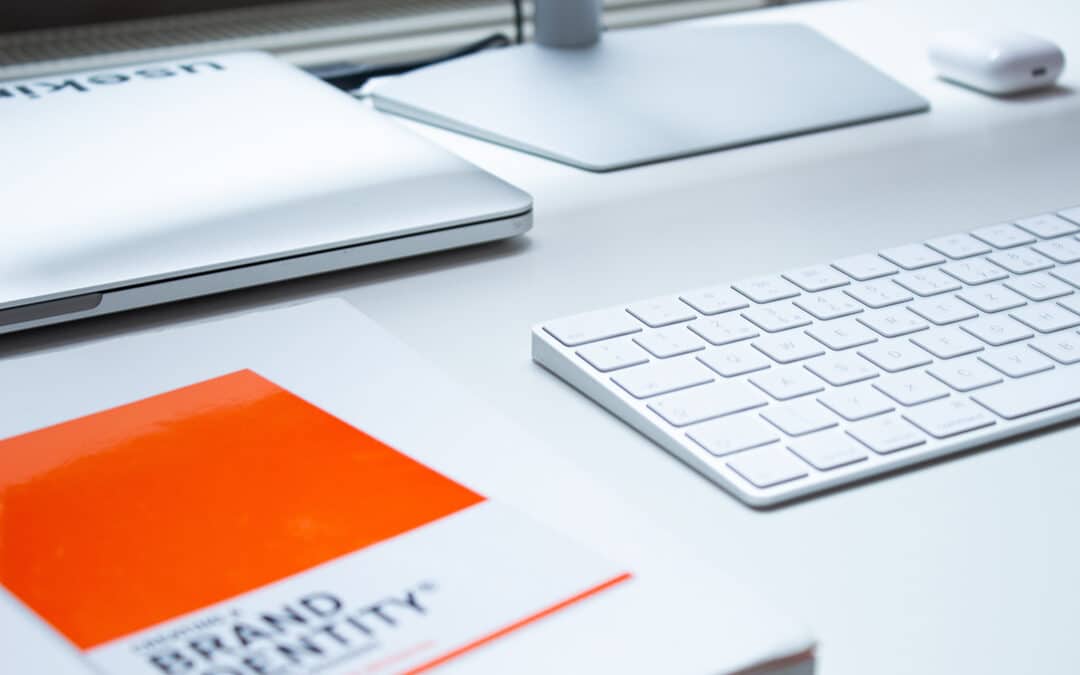 Branding Agency in Los Angeles
Let's take a moment and talk about the phrase "Branding Agency in Los Angeles"… if you are looking for someone to help your brand your new business and are local to Los Angeles or the surrounding areas, there is a good chance you have googled "Branding Agency in Los Angeles". 
(Little secret: if you did and this article popped up, my SEO is working.)
I will be the first to admit, I use the word "Agency" in my website copy but personally hate it. Agency feels pretentious. I always imagine a scene from Mad Men when I hear the word "agency". I have always thought of Stellen Design as more of a design studio. While we do scale per project and bring on other creatives to assist like an agency would, for the most part, I do the bulk of the creative work myself. 
We are not a huge team of 50 + people operating out of a big converted warehouse in Playa Vista like Chiat Day. We are a lean and mean team working remotely from various corners of the county. But I, Jordis Small, am a Los Angeles native and no one is googling "branding studio in Los Angeles". So for the sake of being found on the web, I use the phrase "Branding Agency in Los Angeles". 
That being said, let's talk more about branding agencies, the pros, the cons, is a big agency the way to go for your project? Will they execute or are you overpaying for a junior designers work? 
Here are the quick pros of working with a big branding agency:
-Resources: no secret, bigger price tags come with more resources. Not only more creative resources but test groups, user data, and teams to bounce ideas off. Basically more brainpower all around. 
-Experience: usually the heads of large branding agencies have worked their way up the totem pole and can provide priceless feedback to your project based on experience. 
-Credibility: working with a branding agency usually carries strong credibility. Their portfolio is loaded with big names and brand you will recognize. It's fairly easy to do a Google search of their projects and find some stuff you recognize. And recognition builds credibility. 
Cons of working with a big branding agency: 
-Cost: Hiring a branding agency comes at a cost and that cost does not necessarily mean better work. Agencies have a lot of overhead, expensive rent, employee salaries and benefits, and keeping up with the hip culture. If you have the budget, sure a big branding agency is in the cards. Just be wary of the quality of work. Sometimes you might be paying 30K+ for a brand and it's being passed down the line to a junior designer. Mean while those experienced heads of the agency don't even see your project because they are working on larger accounts.
-Little Fish in a Big Pond: When you are working with a big branding agency be careful you are not a small fish in their big pond. You might be dumping your life savings into your project but still, your 100K budget is small compared to some of their other clients. That is a sure-fire way to have your project end up on the back burner. 
-Quality of work: I don't ever like bashing on another creatives work but I have seen this first hand so it is worth sharing… those big agency prices don't always deliver what they should. I had a client come to me after they were not happy with the quality of work they received from one of the biggest branding agencies in Los Angeles. Not naming a name but they are on the first page of a Google search so be aware. The client was referred to Stellen Design by a friend and we helped finish off the project but unfortunately, the client ended up with a very amateur logo that is not set up for success. 
If you want to read about what makes a good logo, check out this article. 
Will they execute or are you going to overpay?
Unfortunately, I cannot say whether a big branding agency will execute and create an earth-shattering brand for you or if you will end up like my client, overpaying for junior-level work. But, I would like to say, do your due diligence and ask for referrals. Ask to speak to past clients so you can get some insight. Interview a few branding agencies, ask who will be in charge of your project. If your budget is under 30K I would suggest going with a smaller design agency or studio to ensure you are getting top of the line work and dedication to your project. 
While you might miss out on some of the resources big agencies can offer, a smaller studio can outsource to test and focus groups. Having a larger budget at a smaller studio will go further. 
This scenario reminds me of when we bought a Subaru, we got all the bells and whistles, back up camera, driver assist, heated seats, you name it. In the same month, my sister in law got a BMW (same budget as us), but she got no bells and no whistles. 
Use this graphic to help guide you when hiring a branding agency or studio.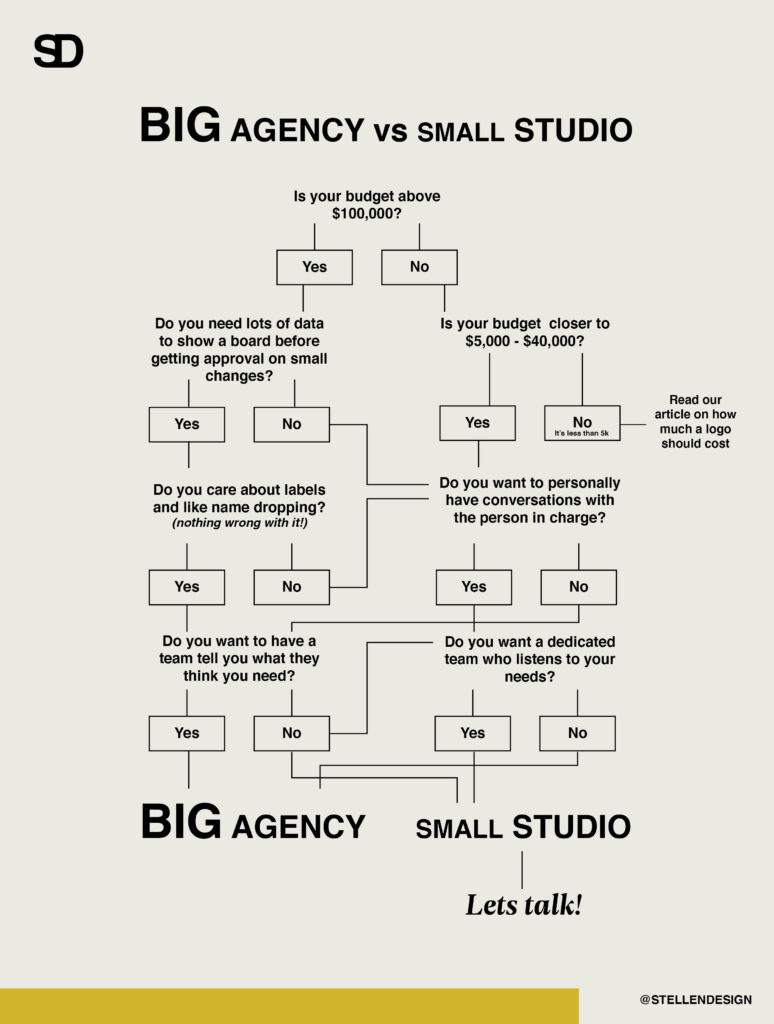 Want to know more about logo designs? Give this a read!  
Search
The Latest From Instagram