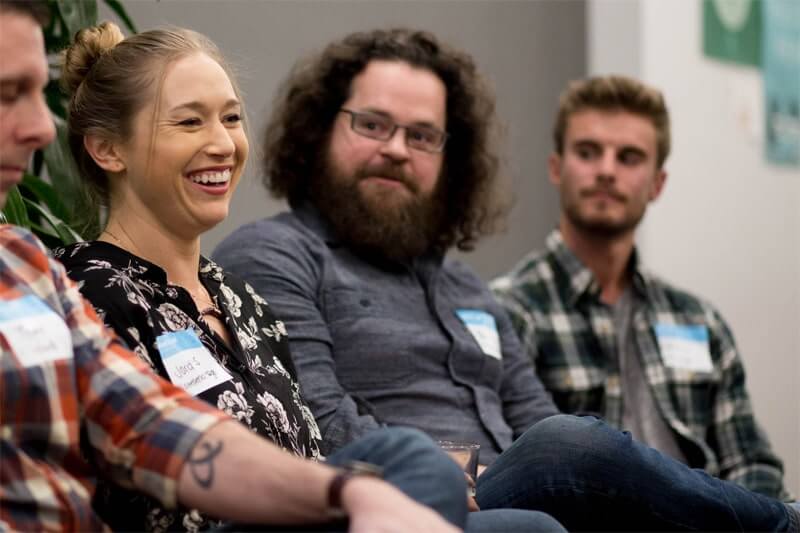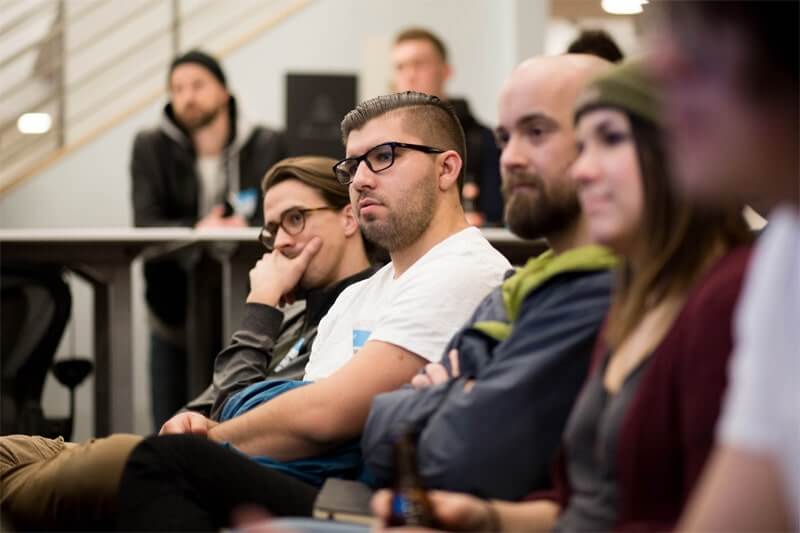 A few months ago I was given the opportunity to travel to Salt Lake City, work remotely from another creative agency, and speak on a panel in front my design peers. Sounds amazing, right?! And it was!!
In 2017, I attended Epicurrence, a creative meet-up that is half wilderness retreat, half design pow wow, where I met Ben, Executive Director of Underbelly. He was one of many amazingly talented go-getters I met that week. After Epicurrence, everyone from the event kept in touch via Slack and the occasional Instagram comment, and one day Ben posted about a "drop in" he wanted to host at his agency Underbelly in Salt Lake City. I instantly had this feeling that I needed to go. After getting on Slack and talking with a few others who were going, we decided to book an Airbnb … coincidently, it ended up being seven designers in a house together—I kept thinking of the Real World intro, "Seven strangers, picked to live in a house together…" Anyways, we had a solid crew and I knew it would be just what I needed.
I have been working for myself for over 3 years. On my team, I have one designer who lives in Chicago and a developer who works out of her own office. It can get a little lonely sometimes, and I have realized the one thing I miss about being on a team is getting feedback from other creatives on projects. All I really have to work off of is feedback from my clients. The idea of working in an office with other designer for a week was the perfect opportunity to get some much-needed feedback. Not to mention, Ben sent out an itinerary filled with mountain climbing gym time, snowboarding, daily coffee shop tours, and enough work time that I could still keep up with my schedule.
The week as a whole did not disappoint in any way. My house crew and I chatted about almost every work scenario possible, got feedback and work tips from each-other, and laughed a lot. At the office we were able to work as we wanted, and I was able to get some great feedback on a branding project from some of the Underbelly branding designers. We were even given a tutorial on how to DIY gold foil, and also got some fun headshots and group shots in their studio.
One last thing Ben had put together was an open house night at Underbelly for other creatives to come in and hear us talk… Yes, I said us, meaning me, my house crew, and few other designers who had traveled in for the event. Besides giving a few keynotes and presenting to clients, I had never really spoken on a panel before, but given the opportunity I knew it would be great. I have to say it was one of the coolest experiences of my design career. Design is one of those professions where there is not a straight or clear-cut path to success, so I always find myself soaking in keynotes at design conferences or asking other designers a million and one questions about how they got started, how they work, and what makes them tick. I did not stop and realize my journey was valuable too. I have experience that other designers might not have, and vise-versa. I do have tips and ideas to share, even if it's as simple as how I found the project management system that saves my life daily, or leaning the value in daily meditation.
It was also awesome to hear other designers speak so freely about their experience and how they handle situations in the creative industry.
All in all, I have to say, the week I spent in Salt Lake City is one I will never forget, and I hope I get another chance to do something like this again.