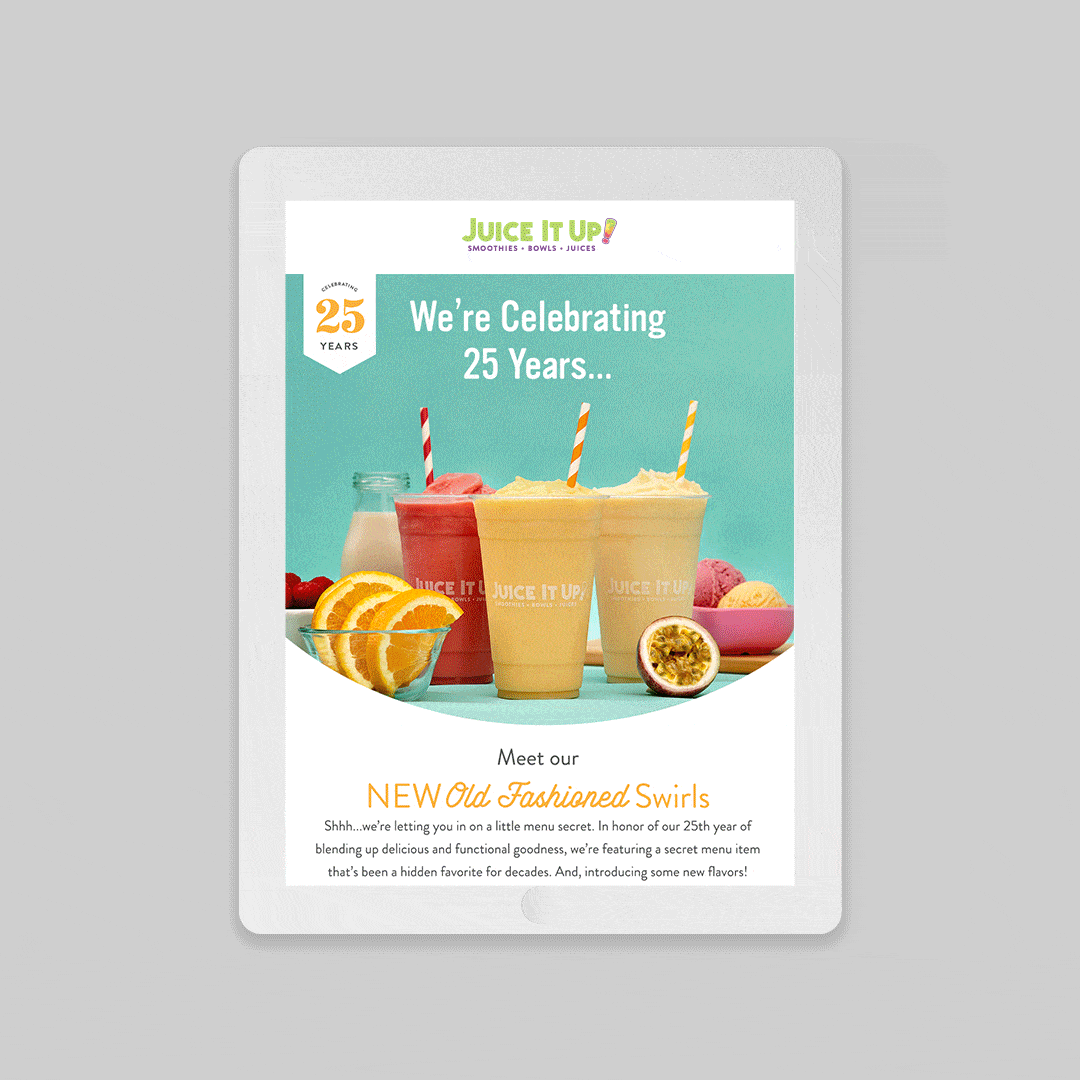 Juice It Up! Graphic Design
Juice It Up! is a franchise based business based out of Southern California with location nation wide. They have been in business for over 27 years and have over 100 locations open & more in development.
The Problem
Juice It Up! went through a website re-design and re-brand. They had worked with a firm that specialized in websites and worked on brand second… (the opposite of us!) and they liked the new website but were not in love with the brand direction. The firm was also not set up to handle the day to day graphic design needs, so we jumped in to take over.
How We Helped
Being a branding agency ourselves, we know how to follow a brand guide and stay on script. We were able to follow the standards the previous agency laid out then evolved them over time into what Juice It Up! was really looking for.
We have helped Juice It Up! With various campaigns and promotions across both print and digital mediums.
We have created campaigns for their 25th anniversary, as well as designed quarterly Limited Time Offers like the Horchata Smoothie and their Acai in the spring!
Along with seasonal projects we have also redesigned the menu boards for all stores, created in-store graphics, and designed custom iconography. We have since advised on a re-design of the website, re-defined the brand standards, advised on mobile app design, and are now styling monthly photoshoots for the brand. 
We have become the Juice It Up! design department giving them creative director level work on a monthly retainer basis.
The Result
The brand has a steady look, feel, and vibe that is the right vibe for them. It's clean, fresh, and fun. They have opened several new locations in the time we have partnered with them and seen an impressive jump in sales. Their franchisees are happy with the consistent and quality work that comes out in their POP kits for the quarter. They feel supported and are excited to be a part of the brand.
Serivces
Email Campaigns
In Store POP