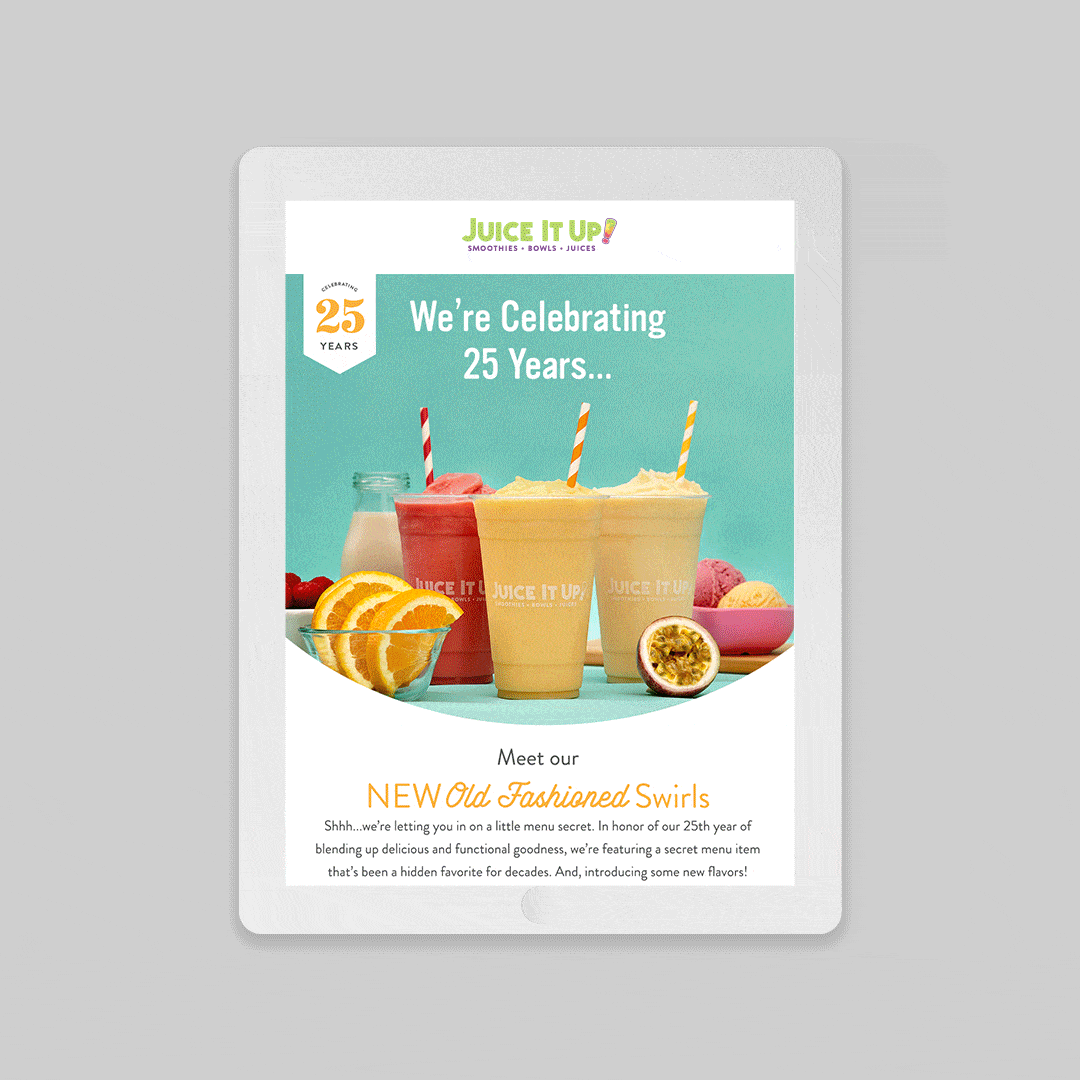 Juice It Up! Graphic Design
Juice It Up! Hired Stellen Design after undergoing a website re-design and re-brand. The design firm they used for the website and re-brand was not suitable for the day to day design work, so we jumped in to take over. 
Being a branding agency ourselves, we know how to follow a brand guide and stay on script. The goal of having a brand guide to make sure all design assets look cohesive, even if other agencies or design teams are creating them. 
We have helped Juice It Up! With various campaigns and promotions across both print and digital mediums. While we like to focus on brand it is fun to jump on print and digital graphic design projects. 
Our two favorite campaigns have been the 25th anniversary, The Horchata Smoothie, and Acai Month!
For the 25th anniversary, we played off the retro ice cream shop vibe and created a fun lock up for the campaign creatives.
The Horchata Smoothie is Juice It Up!'s season favorite like Pumpkin Spice Latte at Starbucks. We needed to create a campaign look that could span from October through December. It needed to have a fall vibe and fade into the holiday. We accomplished that by creating a clean logo lock up for the smoothie and letting the stylized imagery do the seasonal talking. 
Every April we have the fun task of creating a campaign to promote Acai month. This usually requires a logo lock up for the month along with stylized photography and layouts for the campaign.
Along with seasonal project we have also redesigned the menu boards for all stores, created in store graphics, and custom iconography.
Serivces
Email Campaigns
In Store POP