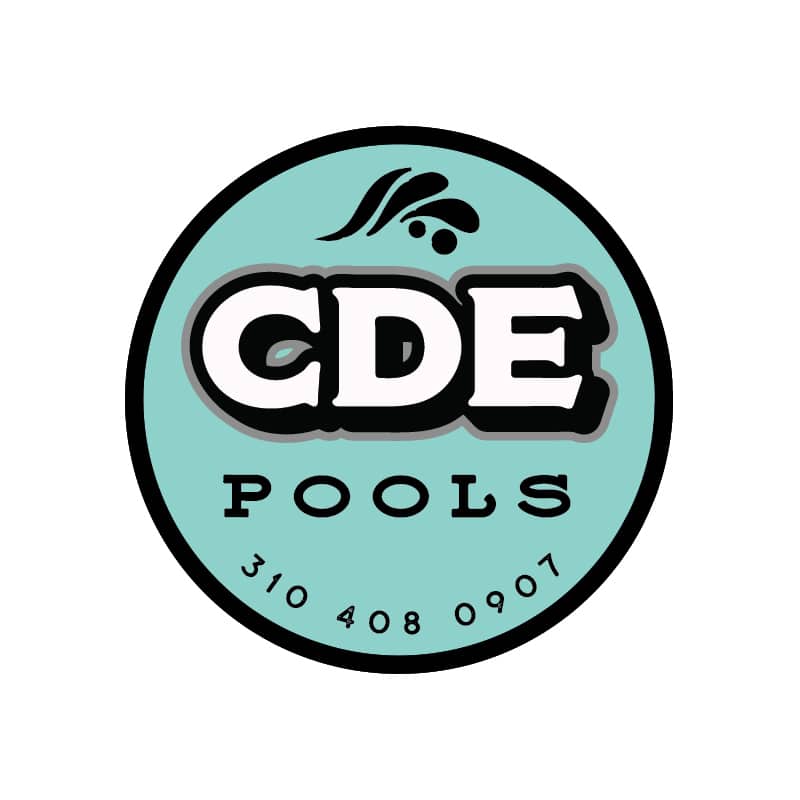 CDE Pool Service
CDE is a local pool service company in Los Angeles. The client came to us just as he was gearing up to start his own business in need of a pool logo that was not an actual pool. He told us that while most of his clients live in well off neighborhoods, he did not want his branding to express luxury for the fact that he is a causal guy and has visible tattoos. He did not want to falsely advertise himself in any way. 
He wanted his logo and branding to be fun, a little retro, and something that would work well as a t-shirt graphic. He highlighted the t-shirts being very important. They need to be noticeable since he and his workers often walk into clients backyards unannounced for scheduled cleanings and it needs to be clear "they are the pool guy."
With this project, we finalized a badge style logo set for CDE. We used a retro inspired display font with a simple, handwritten style san serif for the phone number. We added some "splashes" of water to give it more of a retro vibe. The colors were inspired by the old school "pool" blue! 
Services
T-Shirt Design
Words From Our Client
"Working with Jordis  and Stellen Design to launch our new family business was a breath of fresh air after dealing with legal and insurance companies throughout the start up process.  This was our most favorite part of launching CDE Pools, putting our vision to life and Stellen Design made that all possible!  We built such a comfortable rapport with Jordis over the weeks we worked together, she was so invested in understanding our ideas and putting her professional creative spin on them. We started with the logo design and were thrilled with all the varieties she provided us and have used them directly across all our marketing materials. Since then we have gone on to use Stellen design for t-shirt design, hat design and even our business cards. We will definitely reach out to her with our next set of marketing for custom brochures!"
– Chad Elliott 
Owner CDE Pools